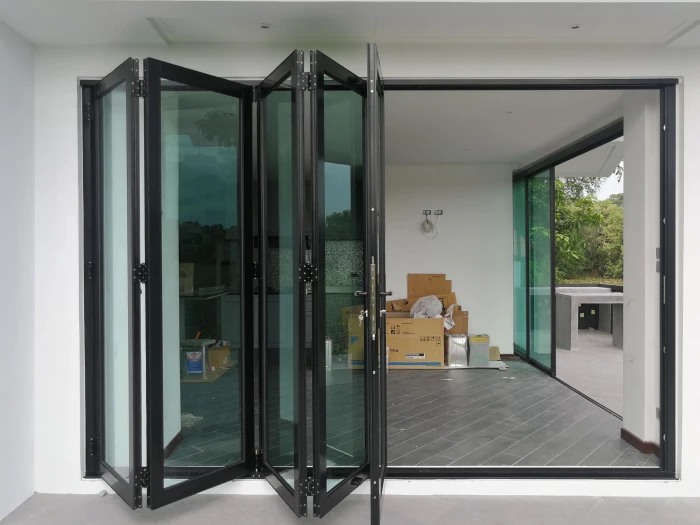 Bifold doors are as secure as most doors when properly installed and maintained with high-quality locking mechanisms. Most bifold doors have multiple locking points along the track to secure them in place and prevent forced entry. Additional security measures such as laminated or tempered glass and various locking systems can be added for increased safety.
It is important to have bifold doors installed by a reputable company that follows proper security procedures. Bifold doors installed by a professional such as Select Windows Systems should be inspected regularly to identify any potential security risks.
Most modern bifold doors are designed, manufactured, and installed with security in mind. The level of security provided by bifold doors can vary based on several factors, such as the quality of materials, the type of glazing and the type of locking mechanisms.
Here are some of the things to look out for when considering the security level of a bifold door.
Quality of Materials
The stronger the material used in manufacture, the higher the level of security. Doors made of steel or aluminium offer better security than weaker materials like uPVC. That is not to say that uPVC doors do not offer high levels of protection. uPVC bi-folds are very strong and secure if properly installed with good security features.
Locking Mechanisms
Most high-quality bifold doors come with robust locking systems. Multi-point locking systems are now common. Doors with this feature have multiple locks that engage at different points on the frame, making it much more difficult for a burglar to break in.
Toughened Glass
Many modern bifold doors have glass panels, and the type of glass used can impact the level of security. Most are now manufactured with laminated or toughened glass which is more difficult to break than standard glass making them good choices for bifold doors.
Tracking Systems
It's a good idea to check the bi-fold door has an in-line tracking system. In-line tracking prevents the doors from being lifted off their tracks, a common way for burglars to break into homes that have sliding doors.
Professional Installation
Proper installation is crucial for security. If bifold doors are not installed correctly, they may be more vulnerable to forced entry. Some bifold doors have a Secured by Design accreditation, which ensures they meet basic security standards set by the police.
Overall, bifold doors are a very secure option for your home or business property, provided they are installed properly and have the right features. However, it is important to remember that no door is completely burglar-proof, so it is always a good idea to take other security measures as well, such as installing a security system and motion sensors.
Here are some additional tips for making your bifold doors more secure:
Consider integrating access control systems, such as keyless entry or smart locks
Install a burglar alarm system connected to a monitoring service.
Install motion sensors around the door to warn of any unauthorised entry.
Keep your shrubbery trimmed so that burglars don't have somewhere to hide.
Be aware of your surroundings and report any suspicious activity to the police.
No security measure is completely foolproof, but taking the appropriate precautions can significantly reduce the risk of unauthorised access. Consulting professionals or experts in door installation and security can help you make an informed decision on installing bifold doors.