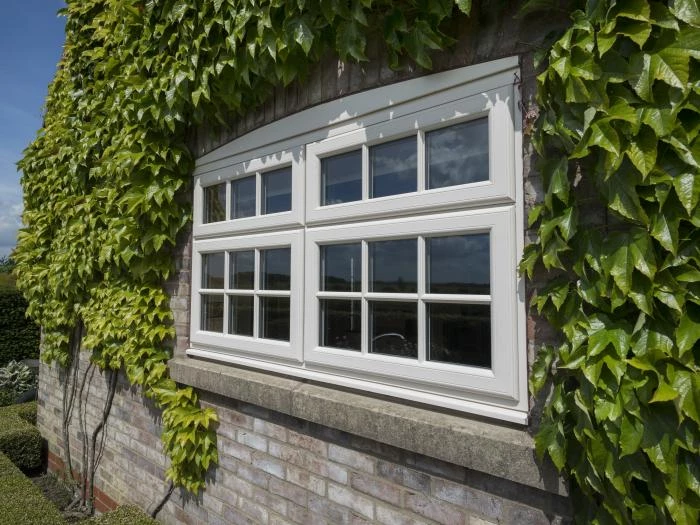 When property owners decide to replace windows and patio doors, they often choose aluminium or uPVC.
They are not the first to be faced with the dilemma, and it is not an easy decision when it comes to installing windows in domestic or commercial properties.
We take a hard look at the benefits and drawbacks of the uPVC versus aluminium debate to help customers make the best decision when it comes to installing new windows.
uPVC, or unplasticised Poly Vinyl Chloride, has been a popular material for window frame manufacture since it became widely available in the 1980s.
It has many advantages over traditional timber window frames being much more durable and resistant to rot with a long lifespan and small maintenance overhead.
But uPVC windows don't last forever, and although they degrade at a much slower pace than timber frames, many will need replacing after 20 to 30 years.
Windows made of aluminium have similar properties to uPVC. They are hard-wearing and resistant to rot. Aluminium, unlike many metals, does not rust and will generally last longer than uPVC before they need replacing, often 50 years or more.
The thermal efficiency compared
With the emphasis on carbon footprints these days, modern window frames must be thermally efficient. Until recently, uPVC window frames won this battle as the material had low heat conductivity compared to aluminium. Heat could pass through aluminium much more quickly, making aluminium windows less thermally efficient. However, technological advances in recent years mean modern aluminium window frames and doors are much more heat efficient. They have innovative thermal features built inside the frame that substantially reduce heat loss. Some aluminium doors and windows incorporate a special heat-resistant gel into the frame to provide highly effective heat insulation. Nowadays, there is not much difference between uPVC and aluminium windows regarding thermal efficiency, with both offering up to A++ (WER) window energy ratings. By law, all newly installed windows must be at least C-rated. Hence, it is worth checking out the WER figure before choosing which type of window to install.
Soundproofing of uPVC and aluminium
Soundproof windows and doors are often a high priority for customers, especially those that live in a noisy areas. Soundproofing is one area where uPVC does beat aluminium. Sound waves lose power more quickly in softer materials like plastic and timber. Regarding soundproofing windows, the difference between uPVC and timber is negligible, while aluminium, being a metal, cannot compete. That is not to say that aluminium windows are poor at soundproofing, only that the other materials have a slight advantage in blocking outside noise. However, it is worth pointing out that the most effective soundproofing comes from the glass panes rather than the frame. Customers who opt for double-glazing or triple glazing will get much higher levels of soundproofing. Those that live in very noisy neighbourhoods may favour uPVC windows. But for most homeowners, the difference in soundproofing is negligible, and other factors play a more significant role in making a choice.
The security level of uPVC vs aluminium
The security of any window is mainly determined by the quality of the locks installed with it. It makes no difference which window material you opt for aluminium, uPVC or timber. Both aluminium and uPVC windows are appreciably more secure than timber windows which can be vulnerable to forced entry if they are not in good condition. As long as they have robust, modern, multipoint locking, you are safe, but be aware that timber frames can decay quickly if not properly maintained.
Aesthetic qualities of aluminium and uPVC
Because metal is stronger than plastic, aluminium window frames are usually much thinner. The slim frame adds to the clean, elegant look that is very popular in modern homes. Slim window frames also improve sightlines through the glass panel. A property with a large garden or beautiful surroundings will benefit from aluminium windows or sliding patio doors. Despite the slimmer framework, aluminium is robust enough to carry large panes of glass. That can cut the need to divide large window areas into multiple glass panes, allowing better views and extra natural light.
uPVC window frames tend to be bulkier with thicker frames and more restricted areas of glass.
Colours and finishes compared
White uPVC tends to be relatively cheap, the most common colour in homes and other properties. Modern technology has made many different colours available for uPVC windows, and you can also get wood effect finishes that look remarkably authentic. Aluminium windows also come in many colours and finishes. The robust but smooth powder coating technique for metal painting enhances their durability and stylish appearance. Highly realistic wood effect coatings are also available for those who prefer to combine the classic, traditional appearance of wood with the durability of aluminium.
The price of uPVC and aluminium windows
Aluminium windows are usually more expensive like-for-like than uPVC due to the higher cost of metals and the extra demands of manufacturing. But, as aluminium takes longer to degrade than uPVC, it can be more cost-effective in the long term. Aluminium windows can also add more resale value to a property than uPVC as they look much more stylish. Price comparisons between the two are not always straightforward, as there can be many variables in window installations. Factors may include the quality of materials, the size of the frame, the number of glass panes, the available accessories, and the colours and finishes required. Aluminium windows are gradually becoming more popular, and the scale of production tends to bring prices down.
So what is the best window material?
Aluminium vs uPVC is not a clear-cut decision. Much will depend on your budget, personal preferences and other factors such as soundproofing, the view and the standard of accessories you want. There is little difference between uPVC and aluminium windows at many levels. Both rate well for thermal efficiency and security, and modern windows come in various colours and finishes.
uPVC windows are more affordable than aluminium, like-for-like, but the overall cost will depend on a host of factors, such as the levels of soundproofing and security you require. Talking to window installation experts such as Select Window Systems can help you decide which is the best for your property. And if you still can't choose between uPVC or aluminium, why not get window installation quotes for both? But remember that it is crucial to compare like for like, considering the glazing options, frame colour, and accessories and factor these into the overall costs of the window installation project.
---
More on window and door materials
uPVC or PVCu: terms explained
Taking care of uPVC
How long will windows last?
Security standards for windows