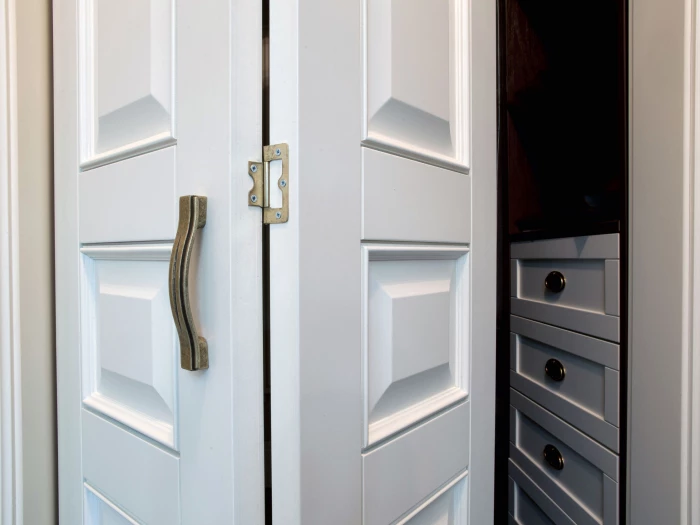 With such a wide choice of internal doors available on the market today, people can quickly get confused about the different door types. Although interior replacement doors can add value and character to the home, it's not always clear which door is best.
Interior doors can have a significant impact on your home, and homeowners often underestimate their value. Choosing the right replacement doors can add visual appeal and have practical value, too, thanks to the range of modern materials now available.
We will try to explain the various door options available and give an easy guide to door styles so you can choose the right door for you.
In selecting a new internal replacement door, much depends on the position, personal taste and budget.
Flush door replacements
Flush doors are the simplest, with a plain facing on both sides and no panelling or other fancy features. They look similar from the outside, but their internal construction can vary. Flush doors usually have one of three types of inner core – solid, hollow or stave. Solid core doors have a hardwood core; hollow core doors have a light honeycomb lattice core, while stave door flush doors have wooden slats in the core, usually stacked on top of each other. Solid core doors are heavier and more expensive, but they also have better soundproofing and thermal ratings and are more durable and long-lasting than the others.
Panel door replacements
Panel doors are prevalent in the home. They look attractive and look good in most styles of homes. The number of panels can vary from one to twelve or more. Doors with more panels tend to look better in traditional cottage-style homes, but much depends on your taste. Panels can be placed horizontally or vertically, and panels can even be glazed. Glazed panel doors can have one or several glass panels; the more there are, the more natural light there is to help brighten an otherwise dark room.
Planked door replacements
Planked doors are sometimes referred to as cottage doors, and they fit particularly well into period homes, although that is not to say they can't be used elsewhere. Cottage doors are usually made from traditional wooden planks of oak or walnut that run the full length of the door from top to bottom. Ledged doors have a similar construction but are reinforced on one side with horizontal planks, usually placed at the top and bottom. Still, you will occasionally find three evenly spaced. Ledged doors may also have added planks at 45-degree angles between the ledges for extra strength, commonly referred to as ledge and brace doors.
Interior door finishes
Interior doors can be bought in various stages of finish. An unfinished door will be bare of any treatment and you decide on the finish you require. Your preferred finish may vary from paint to oils, waxes or stains. This can be a great advantage if the aim is to match the door to existing decor. Doors can also come ready primed with an initial coating of paint, usually white. Primed doors are ready to be painted with the desired colour without having to apply primer paint yourself. Fully finished doors need no extra work other than hanging and fitting with handles and hinges.
Styles of interior door
Flush doors are the most straightforward design and the most affordable. They feature no panels or patterns and provide good insulation and soundproofing. They can come with plain or textured finishes and are most often used as bedroom doors. Sliding doors are often the preferred solution when space is at a premium. Sliding doors used to look rather ugly, but these days they can be supplied to appeal to modern and period-style homeowners. Like sliding doors, bifold doors can be very effective and attractive where space is an issue. They effectively act as room dividers and can often change the whole feel of space in a home, such as when creating open-plan space between lounge and dining areas.
---
More on door types
Types of folding door
Choose sliding or bi-fold
French door basics
How sliding doors work