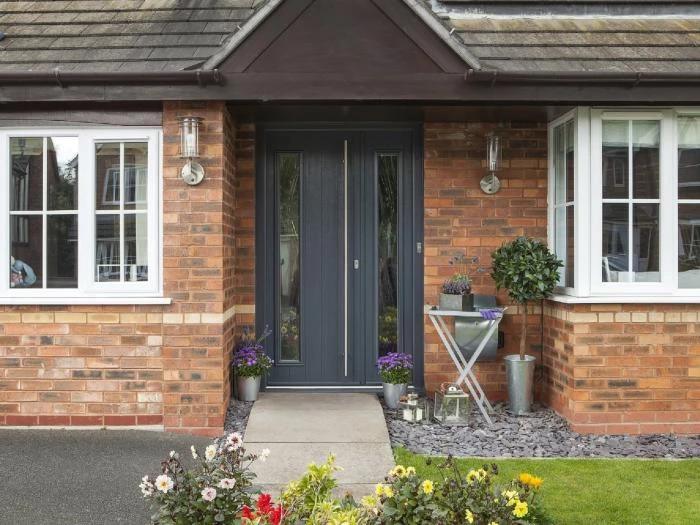 Composite doors are the newest and most popular choice for use in homes and commercial properties. They evolved from the need to solve problems commonly associated with doors made from a single material.
Problems include warping, bending, the need for regular painting and maintenance to combat wear and tear and so on.The aim is to create a door using various materials, each chosen to improve appearance, durability and performance.
They are bonded to make a composite of several materials, such as a hardwood timber core, a PVCu subframe, polyurethane foam and glass-reinforced plastic. Each material is chosen for its beneficial properties and, when fused, can create a sturdy, durable door with superb aesthetic appeal.
The benefits of composite doors
Composite doors have many advantages over single-material doors. Combining different materials to address specific problems, composite doors cover all the requirements for a quality external door. The main benefit is that composite doors are very solid and robust. It means they are highly resistant to the effects of weather, will not warp and can withstand knocks and bumps. Most have a hardwood inner frame to provide a rigid core with a PVCu outer frame, sometimes reinforced with galvanised steel. Other benefits include low maintenance, high thermal efficiency and good soundproofing. You need never have to paint or varnish a composite door and, with a foam core of insulating polyurethane, you can be sure of a quiet, warm interior.
The cost of composite doors
The cost of a composite door can vary. Much depends on the materials used in construction, but other factors can include the style, colour and door fitting, plus any door security extras. Most composite doors are around 45mm thick, but thicker doors can be found, although these are likely to cost more. Unlike doors made of plastic or wood, composite doors contain a much more comprehensive range of materials bonded together under high pressure, adding to the cost. The good news is you won't spend valuable time and money on keeping your door in good condition, even following heavy use.
Composite door security
Because composite doors are manufactured from several fused materials, they are incredibly sturdy, rugged and robust. This is the main reason they are the first choice for external doors. They keep their owners safe, secure and protected. Thicker than standard doors and reinforced by the lamination of materials, they are much less vulnerable to wear and tear or even a deliberate attempt to break them down. Combined with high-rated security locks and deep screw hinges, composite doors provide a virtually impregnable defence against intruders.
Composite door colours
Modern composite doors come in a vast range of colour options, and customers can also choose from a wide range of finishes. As well as an array of colours, these doors are also manufactured in various textures, including remarkably realistic woodgrain effects. The doors can also be ordered with matching or contrasting frame colours and textural effects, ensuring the perfect door frame combination. What's excellent about composite door colours is that they are guaranteed not to fade, peel or bleach in most weather conditions. Even external doors that suffer extremes of weather will keep colours true for many years.
---
More on door replacement
Door locks keep you safe
What are French doors?
Replacing front doors
Maintaining composite doors